TUFFTRUK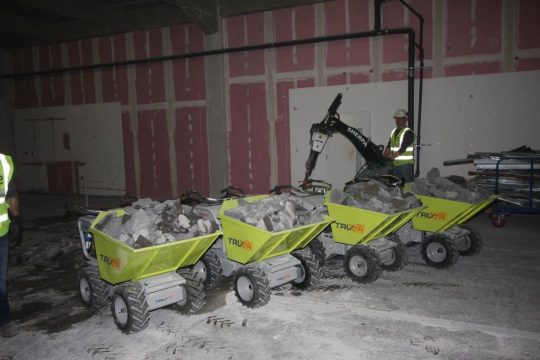 Pro Site have been looking at innovative ways to cut down on manual handling and the risk of injury to our workforce. Pro Site leads the industry in testing eco-friendly technology and equipment to enhance our operating efficiency and we were the first to employ the Truxta, a battery powered mini dumper machine capable of multiple applications, from retail screed removal to commercial office stripout. It is ideal for both open retail malls and more confined public areas. With zero-emissions and a noise output of just 65db, we now have four of these mini dumpers assisting us in our projects.
Pro Site are passionate about providing a professional strip-out service to the highest standard. Due to our professional and personal approach, we are able to create long-standing, successful relationships with our clients as well as main contractors. We consider safety our top priority and work to reduce noise and dust pollution on every site. We give full consideration to the client and to the general public on every project. Our team are available 7 days a week, in or out of hours.
Let us use our hands-on approach to ensure you receive the best possible service for your strip-out project! We are here to answer any questions you may have, so give our team a call on: 0345 122 1220. You can also find more information on our contact page. Pro Site is the safe pair of hands for all of your strip-out project needs. Contact us to find out more!